Insurance
Choose the plan that meets your needs and spend more time enjoying your international experience not worrying about your insurance coverage.
Find Your Plan
What type of coverage
do you need?
Temporary coverage for accidents, sicknesses, & emergency evacuations when visiting or traveling outside of your home country.
Annually renewable international private medical insurance coverage for expats and global citizens living or working internationally.
Popular Plans
Coverage designed to protect you from financial losses should your trip be delayed, interrupted, or cancelled.
Enterprise Services
Meet your duty of care obligations with confidence, knowing your travelers are safe, healthy, and connected wherever they may be in the world.
Show Services
What type of organization do you represent?
Your travelers can access 24/7 global support should they need medical attention, travel assistance, or medical transport services.
Rest assured knowing you have an experienced team who is committed to reducing your costs, moving your files forward, and serving as an international resource for all your work injury claims.
Keep your travelers safe, no matter where they are, with real-time alerts and intelligence on safety, health, political, and other global risks.
You'll have experts to guide you through all things related to your health care plan needs, from enrollment to claim reimbursement.
Expat Health Insurance Plans
Medical Insurance for Expatriates & Global Citizens
M any expats and diplomats are surprised to learn that their domestic health insurance plans may not follow them while living or working internationally. IMG's international medical insurance options include plans that have been designed specifically to serve the needs of expatriates and their families, and can provide invaluable peace of mind for globally mobile citizens.
IMG's expatriate health insurance provides 24/7 global access to health care, and connects expats to important international medical services, such as the coordination of emergency evacuations. These plans can be customized to suit the needs of expatriate individuals, families and groups.
With expat-friendly international medical coverage that's portable and comprehensive, it's easy for expatriates to get Global Peace of Mind®.
Popular Plans
For Expats & Global Citizens
Additional Plans
For Expats & Global Citizens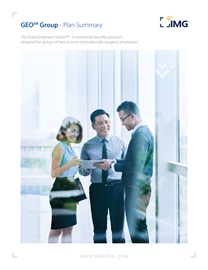 Employer-sponsored group health insurance for internationally assigned employees.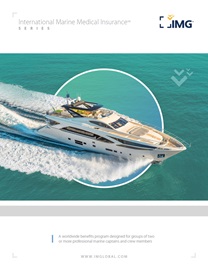 Long-term (1+ year) medical coverage for professional marine crew.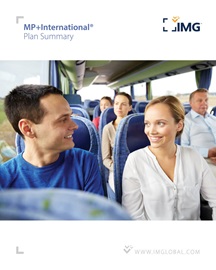 Worldwide employer-sponsored group health insurance for mission groups.
Why Do I Need Expat Health Insurance?
Before expatriates start a new life in a new country, it's essential that they take steps to protect their health and well-being.
Consider the following real-life scenarios in which expatriates covered by IMG plans experienced medical emergencies abroad:
While working away from home in Somalia, an IMG client who had purchased an expatriate insurance plan was involved in a motor vehicle accident and was sent to Kenya for immediate care. IMG arranged an evacuation and coordinated his return to his home country, where he received medical care at a facility close to his family.
In another instance, an IMG client was working as a marine crew member and fell and broke her neck on the vessel. She was taken to a facility in Turkey, where she received emergency medical treatment. IMG then arranged her transfer to a facility in the U.K. for long-term care.
Anything can happen when expatriates are living or working in another country. To protect their health against the unexpected, expatriates should consider purchasing international medical insurance specially designed for global citizens.
How Much Does Expat Health Insurance Cost?
Less than $100 per month for a healthy adult*
IMG's expatriate health insurance plans offer excellent coverage at a competitive price. Long-term individual plans can cost less than $100 per month* for a healthy adult. Value is just one of the many reasons this expatriate chooses IMG.
Factors that Determine Cost
The cost of an expatriate health insurance plan varies based on many factors, including:
Age of Traveler
Coverage becomes more expensive as you grow older, due to increasing risks of health problems.
Area of Coverage
Choosing a coverage area that includes the United States increases the premium, due to the high costs of medical care in the country.
Payment Frequency
IMG offers members a discount when they pay for coverage on an annual basis, as opposed to monthly, quarterly or semi-annually.
Sex
Women typically pay higher premiums than men when they are in their child-bearing years, while men typically pay higher premiums as they age because they have a shorter life expectancy.
Coverage Level
The more coverage that's selected, the more the plan will cost. Electing a benefits-rich plan and adding optional coverage will increase the premium.
Medical History
An expatriate's health may be considered during the underwriting process.
*Based on a healthy 30-year-old male purchasing a Global Medical Insurance policy from International Medical Group. Individual plan rates may vary based on your health and other considerations.
Is Expat Health Insurance Required?
It Depends on the Destination
When it comes to health care, expatriates have even more to consider before packing their bags and relocating to a new country.
Depending on the destination, some expatriates may need to consider country-specific health care regulations when researching coverage options. Some countries require residents to maintain local health insurance, while others may allow expats to purchase their own international health insurance. The United Arab Emirates, for example, requires health insurance for all short- and long-term visitors, including expatriates.
While not all countries require expatriates to purchase international medical insurance, in most cases, it's wise to have some level of supplemental coverage.
Learn more about the importance of expat health insurance by reading a testimonial written by one of our members.
What Does Expat Health Insurance Cover?
Depending on the expat health insurance plan purchased, some of the key benefits provided can include:
Emergency Evacuation
This benefit provides coverage for an emergency medical evacuation to the nearest qualified medical facility and expenses for reasonable transportation resulting from the evacuation.
Emergency Reunion
The Emergency Reunion benefit provides coverage for the reasonable travel and lodging expenses of a relative or friend during an emergency medical evacuation: either the cost of accompanying you during the evacuation or traveling from his or her home country to be reunited with you.
Return of Mortal Remains
If a covered illness or injury unfortunately results in death, this benefits provides coverage for repatriation of bodily remains or ashes to your home country will be covered; or for the preparation, local burial or cremation of your mortal remains, at the place of death.
Political Evacuation and Repatriation
Available on the Global Medical Insurance – Platinum plan, this benefit covers the costs of transportation to the nearest place of safety or for repatriation to your home country or country of residence if certain conditions are met.
Maternity
Also available on the Global Medical Insurance – Platinum plan, the Maternity benefit provides coverage for pre-natal care, delivery, post-natal care and newborn care.
Pre-Existing Condition Coverage
This benefit, typically available once you have maintained continuous coverage for a specified period, provides you coverage for pre-existing conditions that may have been excluded from coverage on other plans.
*This is a summary of a selection of plan benefits offered only as an illustration and does not supersede in any way the Certificate of Insurance and governing policy documents (together the "Insurance Contract"). The Insurance Contract is the only source of the actual benefits provided.
Frequently Asked Questions
Disclaimer
This is not an offer to enter into an insurance contract. This is only a summary and shall not bind the company or require the company to offer or write any insurance at any particular rate or to any particular group or individual. The information on this page does and will not affect, modify or supersede in any way the policy, certificate of insurance and governing policy documents (together the "Insurance Contract"). The actual rates and benefits are governed by the Insurance Contract and nothing else. Benefits are subject to exclusions and limitations.
Global Resources. Local Care.
18
Languages Spoken
In-House
190

+
Countries Where
Members are Served
25
Insurance Plans
to Fit Your Needs
338
Employees & Growing
800,000
Doctors & Hospitals
In Our Global Database
43,000
Producers
Request Information
To request more information, please fill out the form below. After you submit the form, we will have an IMG representative contact you.
Thank you for your submission! A representative will be with you shortly.