Insurance
Choose the plan that meets your needs and spend more time enjoying your international experience not worrying about your insurance coverage.
Find Your Plan
What type of coverage
do you need?
Temporary coverage for accidents, sicknesses, & emergency evacuations when visiting or traveling outside of your home country.
Annually renewable international private medical insurance coverage for expats and global citizens living or working internationally.
Popular Plans
Coverage designed to protect you from financial losses should your trip be delayed, interrupted, or cancelled.
Enterprise Services
Meet your duty of care obligations with confidence, knowing your travelers are safe, healthy, and connected wherever they may be in the world.
Show Services
What type of organization do you represent?
Your travelers can access 24/7 global support should they need medical attention, travel assistance, or medical transport services.
Rest assured knowing you have an experienced team who is committed to reducing your costs, moving your files forward, and serving as an international resource for all your work injury claims.
Keep your travelers safe, no matter where they are, with real-time alerts and intelligence on safety, health, political, and other global risks.
You'll have experts to guide you through all things related to your health care plan needs, from enrollment to claim reimbursement.
International Health Insurance
International Health Insurance provides long-term coverage to people living or working outside of their home country, typically for one year or longer. These plans are ideal for expats and their families, individuals with dual residences, multinational employers, and more. Being a global citizen can be an exciting experience, yet one that can pose many potential risks. Your health care abroad should not be one of those concerns. IMG offers revolutionary programs that provide the flexible worldwide coverage you need, backed by the world-class services you expect.
IMG's flagship international medical insurance plan, Global Medical Insurance, allows you to custom build a plan that is specifically tailored to you. The program provides benefits suitable for individuals and families, provides fully portable 24 hour coverage, and gives you the global piece of mind you are seeking. Additionally, the plan was designed to provide long-term, worldwide medical cover that allows you to receive and continue treatment wherever you choose.
Popular Plans
Ideal for Expats & Global Citizens
Group International Health Insurance Programs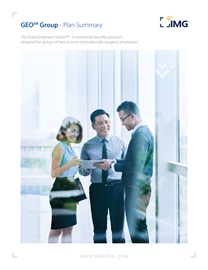 Employer-sponsored group health insurance for internationally assigned employees.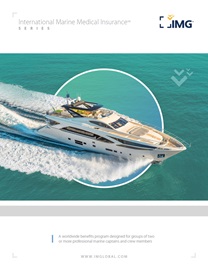 Long-term (1+ year) medical coverage for professional marine crew.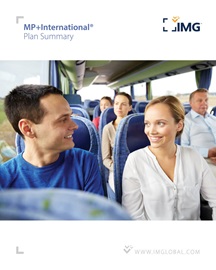 Worldwide employer-sponsored group health insurance for mission groups.
Frequently Asked Questions
Disclaimer
This is not an offer to enter into an insurance contract. This is only a summary and shall not bind the company or require the company to offer or write any insurance at any particular rate or to any particular group or individual. The information on this page does and will not affect, modify or supersede in any way the policy, certificate of insurance and governing policy documents (together the "Insurance Contract"). The actual rates and benefits are governed by the Insurance Contract and nothing else. Benefits are subject to exclusions and limitations.